US officials shot down three UFOs earlier this year and have so far refused to release any details about them – however, they have now confirmed that footage of the incidents exists.
Footage of three UFOs being shot down by the US military has been confirmed to exist – but it won't be released as it's 'classified'.
Numerous sightings have been made in recent months after a leaked image of a 'phantom' UFO flying over an active conflict zone left people baffled.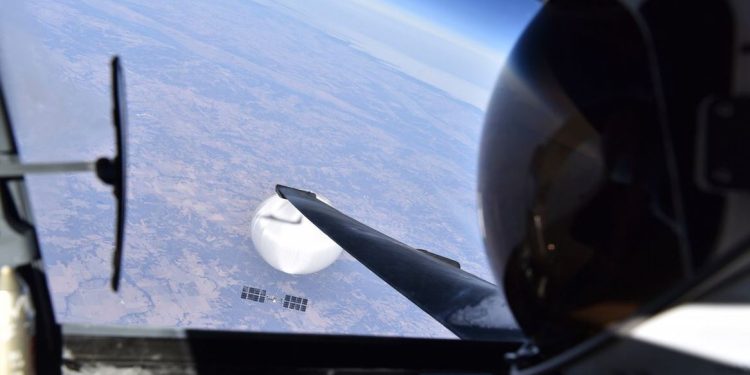 And earlier this year the US Government was accused of a "cover-up" after the shooting down of three UFOs in three days.
Now, footage of the UFOs has been confirmed to exist, although the Pentagon stated that they wouldn't be releasing it it as it remains 'classified', the Daily Star reports.
It has been confirmed that video footage from the incident exists (Image: Chad Fish/AP/REX/Shutterstock)
What do you think about the recent UFO sightings? Let us know in the comments…
The triple take-down came after US pilots downed a Chinese spy balloon flying at 60,000ft off the coast of South Carolina on February 4.
China admitted it belonged to them but insisted it was simply a weather balloon that had gone off course. They took no responsibility for the three others.
A car-sized object interfered with the sensors of two F-22 Raptor fighters before it was shot it down over Deadhorse, Alaska, on February 10.
A second cylinder-shaped UFO was blasted out of the sky over Yukon in Canada 24 hours later after consultation between US President Joe Biden and his counterpart north of the border, Justin Trudeau.
For now, the video will remain classified ( Image: Uncredited/AP/REX/Shutterstock)
The third – neutralised by an F-16 fighter at 20,000ft over the Great Lakes a further 24 hours later – was described by defence officials as an "unmanned octagonal structure with potential surveillance capabilities" and strings attached to it.
And after the Daily Mail requested to see the footage of the events, the Pentagon's response has left more questions than answers.
A spokesman said: "I can tell you that there is not currently any images or video footage that we can release.
"The imagery remains classified, and I have not received any information as to the potential timeline on a change in classification."
The Pentagon doesn't actually have to release footage of anything posing as a "security risk", however.
One user said: "It appears true because of reports that used various kinds of radar.
"These crafts were doing things we cannot do."
And a second tweeted: "My curiosity is did the UFO attack anyone or anything?
"My guess would be absolutely not, so an unprovoked attack on something you don't understand, what could possibly go wrong?
"I would like to see the footage, although I'm hesitant to believe the story."
---
© 2023, The Mysterious Woods. All rights reserved. On republishing this post you must provide link to original post!