Prominent UFO expert Jaime Maussan delivered a stunning presentation at the Mexican Congress, revealing two allegedly "non-human" bodies known as the Nazca mummies, which are claimed to be 1000 years old, as reported by the media.
During this event, Maussan, renowned for his decades-long research into extraterrestrial phenomena, collaborated with scientists to investigate these mysterious corpses. They were purportedly excavated from mines in Cusco, Peru, and the researchers' claims have generated significant interest.
The astounding assertion is that these bodies have a genetic composition that differs by as much as 30 percent from that of human beings. Carbon dating conducted by the National Autonomous University of Mexico (UNAM) confirmed that the bodies, which have recognizable three-fingered hands and feet, are indeed over 1000 years old.
The bodies have a humanoid shape but also distinctive features, such as elongated necks and skulls that are said to have "bird-like" characteristics, as reported by the Mexican edition of El Pais and relayed by The Economic Times. Additionally, it has been established that they possess strong yet lightweight bones and are lacking teeth.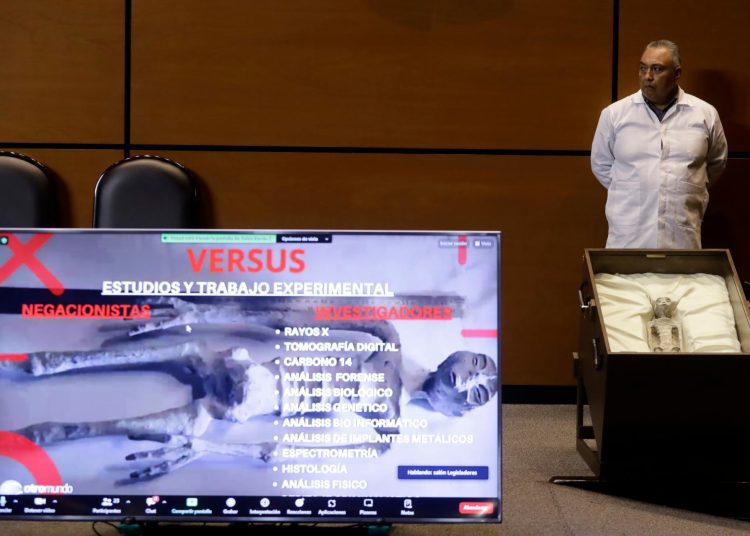 Furthermore, experts determined that one of these beings carried eggs with embryos inside and had implants made of the metals cadmium and osmium.
"These specimens are not part of our earthly evolution… They are not beings found after a UFO crash. They were found in diatomaceous earth mines and later fossilized. Whether they are aliens or not, we do not know, but they were intelligent and lived among us. We should rewrite history," said Jaime Maussan, speaking under oath.
The presentation of the Nazca mummies in the Mexican Congress garnered significant attention and was attended by various Mexican and American officials, including Ryan Graves, a retired director of the United States Navy and former naval pilot who previously testified about sightings of unidentified aerial phenomena (UAP, formerly UFOs) and government classification.
It is worth noting that this is not the first time Jaime Maussan has unveiled alleged "extraterrestrial" bodies. In 2015, he presented another mummified body, claimed to be of extraterrestrial origin, which was discovered near the Nazca Lines, a series of giant geoglyphs in Peru known for their immense size and enigmatic nature.
The remains of alleged 'non-human' beings have been presented to a hearing in Mexico's Congress investigating claims of alien life 👽 pic.twitter.com/mHLg2frBIq

— Al Jazeera English (@AJEnglish) September 13, 2023